Meat
Available for pick up or delivery as of Wednesday, December 20th
Regular price
Sale price
$70.50
Unit price
per
Sale
Sold out
Organic-certified TURKEY from Ferme le crepuscule in Yamachiche, QC.
You will be charged for the upper weight in the category you select, and be reimbursed the difference once we select a turkey for you. Please make a note if you have a preference for bigger or smaller within that range.
How to cook a turkey according to the experts

J. Kenji Lopez-Alt @ SERIOUS EATS https://www.seriouseats.com/butterfiled-roast-turkey-with-gravy-recipe

CRISP-SKINNED SPATCHCOCKED ROAST TURKEY WITH GRAVY

3 large onions, roughly chopped
3 large carrots, peeled and roughly chopped 4 stalks celery, roughly chopped
12 thyme sprigs
1 whole turkey, spatchcocked
(reserve backbone, neck, and giblets)
2 tablespoons vegetable oil
Kosher salt and freshly ground black pepper 1 1/2 litres chicken or turkey stock
2 bay leaves
3 tablespoons unsalted butter
4 tablespoons all-purpose flour

1-Preheat oven to 450°F. Line a baking pan with foil. Scatter 2/3 of veg and thyme across bottom of pan. Place slotted wire rack directly on top of vegetables.
2-Pat turkey dry with paper towels and rub 1 tbsp oil. Season liberally with salt and pepper.Tuck wing tips behind back. Place turkey on top of wire rack, arranging so that it does not overlap the edges, pressing down on the breast bone to flatten the breasts slightly.
3-Transfer turkey to oven and roast, rotating occasionally, until a thermometer inserted into the deepest part of the breast reads 150°F, and the thighs read at least 165°F, about 75 minutes.
4-While turkey roasts, make the gravy. Chop the neck, backbone, and giblets. Heat remaining
1 tbsp oil in a saucepan over high heat until shimmering.Add chopped turkey parts and cook, stirring occasionally, until lightly browned, about 5 minutes. Add remaining onions, carrots, and celery and continue to cook, stirring occasionally, until vegetables start to soften and brown in spots, another 5 minutes.Add chicken or turkey stock, remaining thyme, and bay leaves. Bring to a boil and reduce to a bare simmer. Allow to cook 45 minutes, then strain and discard solids. Skim off any fat from the surface of the broth.
5-Melt butter over medium-high heat. Add flour and cook, stirring constantly until flour is golden brown, about 3 minutes. Whisking constantly, add broth in a thin, steady stream. Bring to a boil, reduce to a simmer, and cook until reduced to about 1L, about 20 minutes longer. Season to taste and keep gravy warm.
6-When turkey is cooked, remove from oven and transfer rack to a new baking sheet. Allow to rest at room temperature for 20 minutes before carving. Pour any juices from the roasting pan through a strainer into a cup. Skim off excess fat and discard.Whisk juices into gravy.
7-Carve turkey and serve with gravy.

Ricardo @ RICARDO CUISINE (www.ricardocuisine.com/recettes/4912-dinde-rotie-frottee-au-sel)

SALT RUBBED TURKEY

salt mix:
35 ml (7 tsp) fine salt (table salt)
15 ml (1 tbsp.) chopped fresh thyme 4 garlic cloves, finely chopped
Roast turkey:
1 turkey, 7 kg (16 lb) (see note)
75 g (1/3 cup) unsalted butter, softened
1 liter (4 cups) chicken broth
500 ml (2 cups) white vermouth or white wine 30 ml (2 tbsp.) unbleached all-purpose flour
15 ml (1 tbsp.) honey

Salt mix:
1-In a bowl, mix all the ingredients.
Roast turkey:
1- Place the turkey, breast side up, in a large glass dish. Salt the inside of the turkey with
1 tbsp. salt mixture. Sprinkle the rest of the salt on the breast and thighs of the turkey. Cover with plastic wrap and refrigerate for three days. (The salting step can be done on a fresh or frozen turkey. It is therefore left to thaw and brine dry at the same time in the refrigerator.)
2 - Place the rack at the bottom of the oven. Preheat the oven to 425°F.
3 - In a large roasting pan fitted with a rack, place the turkey, breast side down. Pat turkey skin dry with paper towel and baste with 1/4 cup butter.
4 - Pour half of the broth and the vermouth into the bottom of the roasting pan. Bake for 30 minutes. Reduce oven heat to 325°F and continue cooking or until a meat thermometer inserted in the thigh, without touching the bone, reads 180°F. Measure for the first
times after 75 minutes.
5 - Place the turkey in a serving dish and let rest 30 minutes without covering with aluminum foil.
6 - Deglaze the roasting pan with the rest of the broth, skim off excess fat.
7 - In a saucepan, melt the rest of the butter. Add the flour and continue cooking, stirring, until the mixture begins to brown, about 2 minutes. Add the cooking juices from the turkey and the honey and bring to the boil stirring with a whisk. Simmer
for 5 minutes, until the sauce thickens. Adjust seasoning.

ALISON ROMAN
(www.alisoneroman.com/recipes/dry-brined-turkey-with-sheet-pan-gravy)

DRY BRINED TURKEY WITH SHEET PAN GRAVY

For the turkey:
1 bunch fresh thyme
1 turkey
1/2 cup kosher salt
1/3 cup light brown sugar
2 tablespoons coarsely ground black pepper 4 to 5 medium red onions, quartered
3 lemons, halved crosswise
2 heads garlic, halved crosswise 1/3 cup olive oil
6 tablespoons unsalted butter
For the gravy:
3 cups chicken stock, plus more as needed
6 tablespoons unsalted butter
1⁄2 cup all-purpose flour
2 tablespoons low-sodium soy sauce, plus more to taste
2 tablespoons apple cider or white wine vinegar, plus more to taste Kosher salt and freshly ground black pepper

Coarsely chop the leaves from a few sprigs of thyme and mix in a bowl with the salt, brown sugar and pepper. Place the turkey on a rimmed baking sheet lined with a wire rack. Pat the turkey dry on all sides. Sprinkle with salt mixture evenly. Refrigerate turkey, uncovered, for 8 to 24 hours — the longer, the better.
Heat oven to 325°F degrees.Transfer turkey to another baking sheet. Stuff with remaining bunch of thyme, a few quartered onions and half of the lemons and garlic. Scatter remaining onion
quarters, lemons and garlic around the turkey.
Combine olive oil and 6 tbsp butter in a pot and melt. Pour half of the mixture over the turkey and onions.Toss the onions lightly to evenly coat; season everything with salt and pepper. Roast, rotating every hour, until a thermometer inserted in the deepest part of the thigh reads 160°F 2 1/2 to 3 hours.
Increase temp to 425°F. Pour remaining butter mixture over the turkey and continue to cook until the internal temperature reaches 165°F and the skin is very deeply browned all over, 20 to 25 minutes. It's OK if the internal temperature is just shy of 165°F it will come to temp as it rests. (If you find the skin is browning too quickly, especially on the top at the breast, place a sheet of foil over the breast.)
Remove turkey from the oven and let rest on the baking sheet for 30-45 minutes. Tip the turkey, cavity- side down, making sure the aromatics stay inside the cavity and letting any juices run out onto the rimmed baking sheet. (This is what we will use to make our gravy.)
Transfer the roasted onions, lemons and garlic to another dish and set aside.Transfer the turkey to a cutting board and let it continue to rest while you make the gravy.
Make the gravy: Pour about 1 cup stock onto the baking sheet. Using a metal spatula, scrape up the bits from the turkey drippings. Carefully pour the contents of the baking sheet into a large measuring cup. Add remaining stock until you have 4 cups of liquid; you may need more or less stock depending on how juicy the bird was. Melt 6 tablespoons butter in a medium pot over medium heat. Add flour and cook, whisking constantly, until flour is sizzling and well browned, 4 to 6 minutes. (The mixture will be thick at first but will thin as the flour cooks.) Slowly whisk in stock mixture, about 1/2 cup at a time, letting it bubble, thicken and incorporate completely between additions until all of it has been added.
Add soy sauce and vinegar, and season with salt and pepper. Continue simmering until gravy is at your desired viscosity and the flavours have all melded together, 5 to 8 minutes.

View full details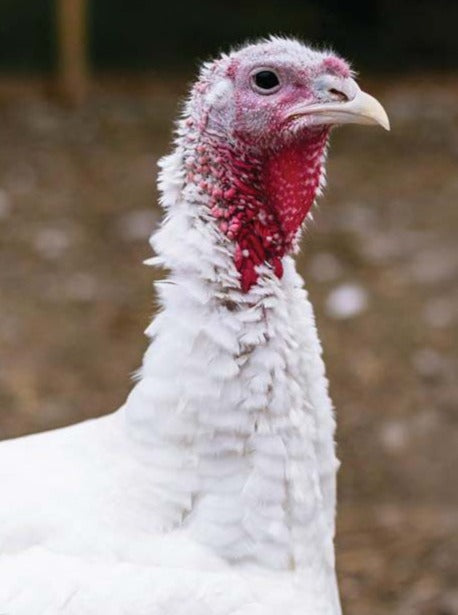 get your orders in

Order by 9pm on Tues for Wed pickup or delivery.


Order by 9pm on Thursday for Friday pickup or delivery.

delivery or pickup

Delivery: Wed & Fri
2-4pm or 4-6pm
$10 flat rate delivery fee 

Pickup at the shop:
Wed & Fri, 3-6pm

areas served

H1W, H1X, H1Y, H2A, H2E, H2E, H2G, H2J, H2K, H2L, H2P, H2R, H2S, H2T, H2V, H2W, H2X, H2Y, H2Z, H3A, H3B, H3G, H3H, H3J, H3N, H3P, H3R, H3S, H3V, H3W, H3Y, H4C

questions?

Have a question or request, want something prepared a certain way? Make a note at checkout, we will contact you if necessary.